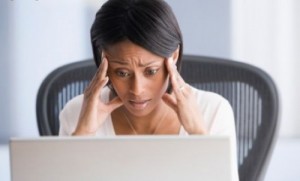 Periodic stress is not a bad thing. In fact, it can be a good thing. It causes our bodies to release adrenaline that can help us finish that assignment, meet a deadline, even enhance our performance and problem-solving ability. But chronic stress is persistent and exists over a longer period of time. It becomes overwhelming, and often a person feels that they never get a break from it. Chronic stress can have debilitating effects on our psychological and physical well-being. In fact the medical community recognizes that 90% of all illnesses are stress-related.
Staying late at work occasionally to finish a project is different than someone who works 60+ hours a week or feels they are never able to leave their work. And everybody has different thresholds when it comes to managing the stress in their life. The truth is we can't avoid all the stressors in our life, but we can learn to take control of the stress through some simple techniques and lifestyle changes.
Identify your triggers. Identify the things in your life that cause you the most stress. Decide which ones need to be addressed and which situations can be avoided all together. Don't try to just avoid them all.
Check your attitude. The more optimistic you are about a situation the better you are able to cope with it. Also, remember: negative attitude is contagious, but so is a positive one.
Set Limits. Decide on how you want to prioritize your day, week or life. Cut back on projects that you find non-essential or too much of a burden. Are you someone who occasionally stays late at work to finish a project? Or are you someone who feels they are never able to leave work? Decide how much is too much and work towards limiting your time spent on projects. Or maybe decide you won't check your email after you leave work or turn off your smartphone by a certain time each night.
Adopt a "people first" mentality. So many chronic stress sufferers live by a "company first" ideology. But someone who works 90 hours a week isn't always more productive in the long run than someone who works 50 hours. "People first" at work can also mean to not avoid office politics completely, but work on building strong personal relationships within your department and with other departments. A "people first" mentality can also remind you of the Work/Life Balance that we should all strive for. How much time do you want to devote to your family and friends and work towards that. Having a life outside of work can make you a better worker by strengthening your ability to cope. And don't forget to utilize your support system: reach out to those you are close with to help you cope with stressful situations.
Evaluate your daily lifestyle. Eating healthy, exercising and getting quality sleep are vital to being able to minimize stress levels and manage stressful situations. Make changes that allow you to better prioritize these in your life.
If the problem is more serious and you find yourself unable to adjust your lifestyle or move past the burnout feeling, consider seeing professional help. Nutritional support like NTR Brain Restoration can help normalize your stress levels and recharge your brain and body. This will enable you to make the lifestyle changes necessary to better manage the stress in your life.