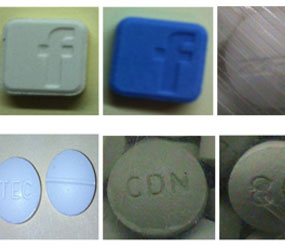 Recently, Montreal police seized massive amounts of a dangerous new painkiller to hit the black market in Canada: Desmethyl Fentanyl, which is a derivative of the painkiller Fentanyl. Desmethyl Fentanyl is 80 times more powerful than morphine and 40 times stronger than heroin. This illegal synthetic substance is a dangerous new painkiller to be hitting the streets. The police intercepted the package that was on its way to an address in Colorado. The police are pretty certain that some of the drug has already been shipped to the U.S.
To give you an idea of how strong this drug is, a police officer, who was wearing a protective mask and gloves, briefly came in contact with the substance during the raid and he had to be hospitalized because of heart palpitations. Three other policemen were also effected after coming in contact with the drug. The police also seized during the raid sophisticated drug equipment that's capable of producing industrial quantities of drugs, with one machine able to produce a pill a second. (Policeone.com)
A major concern that many of us in addiction recovery have is that people who are unfamiliar with the dangerous new painkiller may not know just how powerful and toxic the drug is. This is often the case with many prescription drugs. All they see is a tiny pill and assume that it can't be that big of a deal. They think they can handle it, but this new painkiller can be deadly.
Montreal Police released the above image of the seized drugs. It shows typical copycat "branding" imprints, some with the Facebook logo in an obvious effort to market the drug to a younger audience. Spread the word, talk to teens, help raise awareness!