Finding a healthy approach to Mardi Gras can be challenging. It is not a time of year known for its balance and moderation. In fact, those two goals seem to go against the essence of the season, and it can be a difficult time of year for someone in drug or alcohol recovery. But there are plenty of ways to enjoy the festivities without overindulging.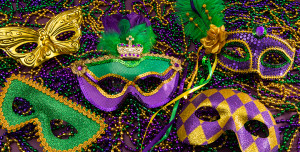 Laissez les bons temps rouler! Mardi Gras is a time of feasting that's for sure. Maybe this year you could take a new angle of it and try some of the amazing, yet healthy restaurants that are popping up all over the city. Splurge a little this time of year on eating out and trying all the healthy options the city has to offer. Sip on juice or a smoothie instead of a Daiquiri as you stand on the neutral ground and yell for beads. To get that King Cake fix check out the low-sugar options at The Green Fork and Breads on Oak.
Here are some great healthy eats to try:
Green Goddess in the French Quarter
307 Exchange Pl
New Orleans, LA 70130
Meals From The Heart Café in the French Quarter
1100 N Peters St
New Orleans, LA 70116
The Green Fork in the lower Garden District
1400 Prytania St
New Orleans, LA 70130
Raw Republic in west Riverside
4528 Magazine St
New Orleans, LA 70115
EAT New Orleans in the French Quarter
900 Dumaine St
New Orleans, LA 70116
Want the feel some of the season's camaraderie? Drop-in for one of these group exercise classes:
Crescent Lotus Dance Studio in the Garden District
3143 Calhoun St.
New Orleans, LA 70125
The Sweat Social in the French Quarter
Gazebo at Woldenberg Riverfront Park
New Orleans, LA 70130
Wild Lotus Yoga in Faubourg Marigny/Bywater
2372 St. Claude Ave.
New Orleans, LA 70117
A few more ideas: Throw your own party and try to put a healthy spin on New Orleans dishes. Here are some great ideas from Eat Fit NOLA. Parking and traffic are horrible as the season progresses so put those walking shoes on and start racking up some miles on that pedometer. Let us know if you have any tricks of your own to finding a more healthy approach to Mardi Gras.
Happy Mardi Gras!