In a recent study soon to be published in Biological Psychiatry, scientists from The Scripps Research Institute found that the stress hormone, the corticotropin-releasing factor (CRF), may play an important role in the development and continuation of alcohol dependence.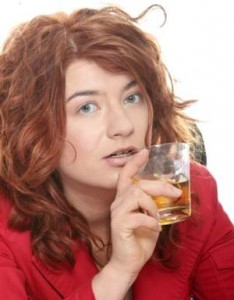 "It represents an important step in understanding how the brain changes when it moves from a normal to an alcohol-dependent state," said Associate Professor Marisa Roberta, the lead researcher. "Our study explored what we call in the field 'the dark side' of alcohol addiction. That's the compulsion to drink, not because it is pleasurable — which has been the focus of much previous research — but because it relieves the anxiety generated by abstinence and the stressful effects of withdrawal."
According to Science Daily, CRF is a chemical involved with the body's stress response. Originally, it was found only in the area of the brain known as the hypothalamus, but has more recently been found in other brain regions, including the pituitary, where it stimulates the secretion of corticotropin, and the amygdala, an area involved with the elevated anxiety, withdrawal, and excessive drinking associated with alcohol dependence. The results from these cellular studies showed that CRF increased the strength of inhibitory synapses (junctions between two nerve cells) in neurons in a manner similar to alcohol. This change occurred through the increased release of the neurotransmitter GABA, which plays an important role in regulating neuronal excitability.
The research team then administered the CRF antagonist R121919 for 23 days into the brains of rats that were exposed to conditions that would normally produce alcohol dependence. Remarkably, the behavior of the "alcohol-dependent" rats receiving one of the CRF antagonist R121919 mimicked their non-addicted counterparts. Instead of seeking out large amounts of alcohol like untreated alcohol-dependent rats, both the treated rats and their non-addicted brethren self-administered alcohol in only moderate amounts.
"This critical observation suggests that increased activation of CRF systems mediates the excessive drinking associated with development of dependence," said Roberto. She also noted that an intriguing aspect of the study is that it provides a possible physiological link between stress-related behaviors, emotional disorders (i.e. stress disorders, anxiety, depression), and the development of alcohol dependence.