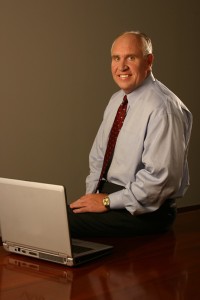 What is the most successful addiction recovery program? "The most successful addiction recovery program is the one that works for you," says ExecuCare Founder Mike Sanders. "And it's not the same for everybody." He has a personal take on what a successful recovery is. This January marks his ten-year sober anniversary. And he knows it's that time of year when many of you are trying your hardest to enter into a successful recovery. He's been there. Just know that you are not alone, and your hope for a drug or alcohol-free future is possible.
Mike was one of those people who challenged the addiction stigma. We know today he joins a very large pool of people who do. They are hard working, successful business men and women who are community leaders and have families and lives. Many of them continue using drugs or alcohol without other people in their lives even knowing they have a problem. Mike's investment firm and his relationship with his family were in jeopardy when he decided to seek treatment.
There were a few obstacles that he faced when he was ready to be sober. One was that he needed help with the physical cravings. He'd tried to quit on his own before and it didn't work. The second was that with his business, he didn't have twenty-eight days let alone three months to enter into a rehabilitation center. And as a prominent businessman, he wanted some discretion at the time. This is what brought him to NTR Brain Restoration.
The NTR process was discreet, there were minimal withdrawal symptoms, and it was drug-free. It eliminated his cravings and restored a clarity of mind. Most importantly, it broke the cycle of dependency and allowed him an entry point into the recovery process. Mike added, "from there, you can build an aftercare that works with your specific needs."
Mike says the most rewarding aspects of his decade in recovery have been "restoring his role as husband and father to what it should be, and helping hundreds of people follow a similar path" (which is what he's done by opening the doors to ExecuCare in 2006. ExecuCare offers NTR and an innovative master coaching program.). But his recovery hasn't been without challenges. He says the biggest challenge is "staying focused on those things that you can change or impact and not letting yourself get distracted by the ones you can't."
Mike Sanders' advice for those of you who are thinking about recovery or trying for recovery: "Take the first step. If you don't know what that is, ask for help. And do it now. Never put off to tomorrow what you can do today."