Your sober fun in Atlanta isn't over yet!
We really stress at ExecuCare that the an important element to a healthy and sustainable recovery is to find new ways to be active and engage in a social life that doesn't revolve around drugs or alcohol.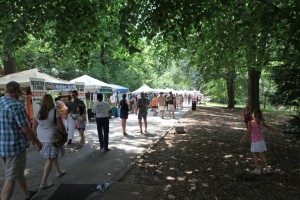 It might seem like a challenge in early recovery. It's usually because your social life, in fact most aspects of your life, have revolved around your drug or alcohol use. You may have forgotten or haven't learned yet all of the things you really enjoy doing. Once you start to realize how great you feel after detoxing with NTR and entering a comprehensive treatment plan, you will start to find activities that genuinely make you happy and offer you an opportunity to meet like-minded people.
Here are some suggestions of events to help you have that last bit of sober fun in Atlanta this summer (Please note that while the emphasis for these events is not on alcohol, not all of these are dry events. So please make sure you are ready for situations in which alcohol may be present before attending):
Aug. 14-15
Atlanta Bar-B-Q Festival (competitions, food from local restaurants, grilling supplies for sale, and live music)
Location: Atlantic Station
 
Aug. 15-16
ONYXCON (Celebrating the impact, contributions, & presence of the African Diaspora in realms of imagination via the popular Arts!
Location: various places in Atlanta
Aug. 15-16
Piedmont Park Arts Festival (photogs, visual artists, sculptors, glass blowers, metal crafters and more)
Location: Piedmont Park
 
Aug. 15
Decatur BBQ, Blues and Bluegrass Festival
Location: East Lake Drive & Harmony Park, Oakhurst
 
Aug. 20-23
ATL Underground Film Festival (cinematic screenings for the underdogs)
Location: dooGallery
Aug. 22
Atlanta Caribbean Cultural Festival
Location: Clayton County International Park
 
Aug. 23
Festival Peachtree Latino (big costumes, big music!)
Location: Piedmont Park
 
Aug. 29
ACAC Art Party
Location: Atlanta Contemporary Art Center 
 
Aug. 29-30
Imagine Music Festival
Location: The Masquerade
 
Grant Park Summer Shade Festival (live music and a 5k)
Location: Grant Park
 
Aug. 30
Atlanta Meatball Festival
Location: Belle Isle Square, Sandy Springs