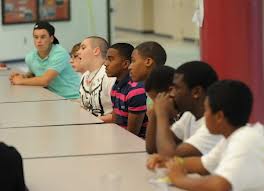 A new study recently found that middle and high school students were at a greater risk for drug and alcohol use when they have a sibling deployed in the military. The study also found that multiple deployments by a parent or sibling increased the risk of substance use by 18 percent.
The researchers at the University of Southern California School of Social work found that students in grades 5-11 who had a sibling in the military were more likely to use drugs than those with a parent in the military. Typically in the past, attention has been paid to children of parents who were deployed. But what this study and others are finding, is that the younger siblings of deployed military are having trouble coping as well. In fact, it can be just as disruptive as having a parent deployed. This is especially true when taking into consideration the 'strain and trauma' that can accompany multiple deployments in the last ten years of war. (DrugFree.org)
In response to the study, researchers are suggesting that schools with a greater number of deployed family members provide stronger drug and alcohol education, and that medical providers in these communities screen these children more thoroughly for substance abuse.
Military children are strong and resilient. But because of the challenges they face daily, they are more prone to stress and anxiety. This puts them at risk for drug and alcohol use. Don't be afraid to lean on others in the child's community to talk with them about drug and alcohol use: grandparents, aunts and uncles, coaches, guidance counselors, or school nurses.
Use incidents in the news or at school to talk about drug and alcohol use. Try using a fictional character from a movie, a movie star, or a professional athlete to enter into a conversation about drugs and alcohol.
And finally, no parent can shield a child entirely from drugs or alcohol, so teach them how to turn it down. This will decrease the risk of drug and alcohol use. TimeToTalk.org has some great scenarios to use, here is one of them:
"Your son goes to a party at his friend's house and someone has brought a bottle of vodka or some beer. Some of the older high school guys are drinking and ask him, "You want some?" Take the role of the older teen or of your son's friends who casually offer beer or vodka to your son. Help your child develop firm but friendly responses. Reassure him that his friends will respect his decision not to get involved. Remind him that people are pretty focused on themselves, which leaves much less brain space for them to be concerned with what others do."