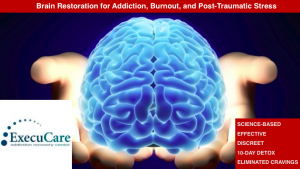 We are excited about our ExecuCare free CEU Seminar, NTR Brain Restoration: Resetting Neurotransmitters & Receptor Systems for Long-Term Recovery on September 16, 2014. Our Executive Director, Jacquie Damgaard, Ph.D., and our Medical Consultant, Rhett Bergeron, M.D., will be presenting on the topic.
Participants Will Learn:
• Brain changes resulting from the chronic use of drugs and alcohol
• Most common obstacles to entering a recovery process
• Current statistics on traditional treatment methodologies
• A newly discovered KEY to successful long-term recovery
• Technology for resolving dysfunctional brain changes in addiction: NTR (Neurotransmitter Brain Restoration)
• History and biochemistry of NTR Brain Restoration
• Outcome studies evaluating the use of NTR Brain Restoration in addiction treatment
Guests will have the opportunity to tour our facility, meet our staff and do some networking. We are happy to announce that we have received approval of our CEU credits and will issue Certificates of Attendance. The seminar is for 3.0 core contact hours of continuing education. It is accredited by the Licensed Professional Counselors Association of Georgia (LPCA).
If you or someone you know would be interested in getting some last minute CEU credits please register by calling 770-817-0711 or emailing Elizabeth@ExecuCareARC.com We will explore this cutting-edge technology on how resetting neurotransmitters and receptor systems can help addicts restore optimum health and eliminate cravings.
The date is September 16th and the time is 4 PM until 6 PM.
Located at Hyatt Place Gwinnett Mall, 3530 Venture Parkway, Duluth, GA 30096
Although there is no charge for this presentation, we need you to register to claim one of the limited seats as soon as possible.